Welcome to our website!
Susan, Michael, Tilly and Martha are keen to welcome you. We hope you enjoy your visit to our site where you will be able to find out all about Daedal Airedales, including our history and the profiles of our stars.
Please leave a message in our guest book or find us on Facebook!
Love, Isabel & Rodney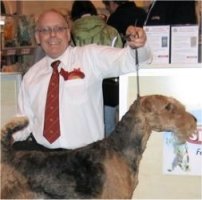 Click to watch our Facebook movie!






'Susan' is looking
better and better
as she matures!
BRISLINE'S BORN IN THE USA FOR DAEDAL (Susan)
Sire: GCh Penaire's Chip Leader at Longvue (Top US Airedale 2012)
Dam: GCh Brisline's Goforit Energizer Bunny (Top US Airedale 2011)


The picture above was taken after
'Susan' won Junior at EELKS on 3rd
August and went on to win RBOB.
See more about our star on her page!